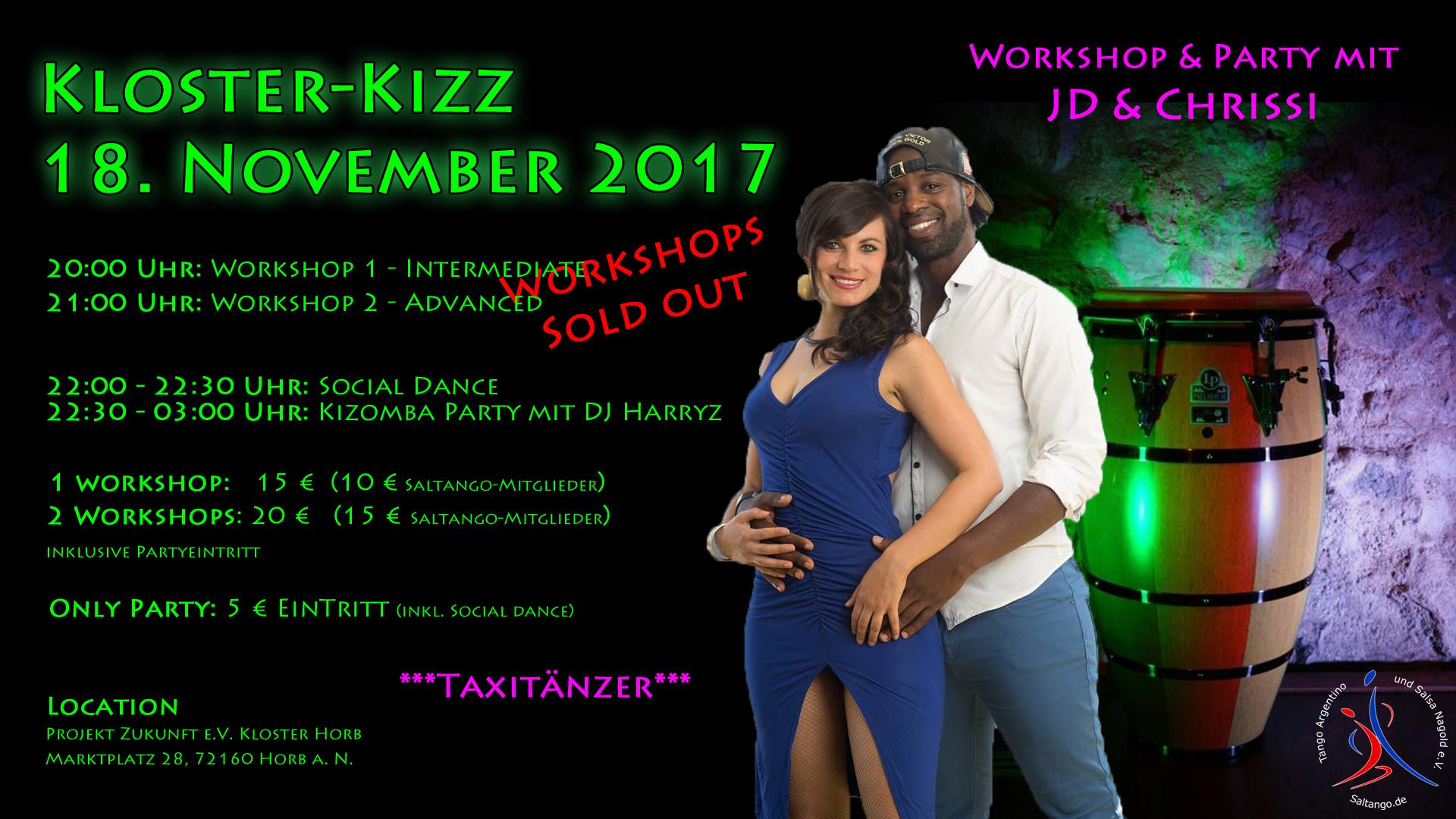 —- English version below —-
🌟🌟🌟 Kloster-Kizz 🌟🌟🌟
Unser Kloster-Kizz geht am 18. November in die nächste Runde. Unser Kloster öffnet seine Tore für Kizomberos und Kizomberas aus dem Schwabenländle und von auswärts.
Unsere Topp-Künstler für dieses Event: 🌟 JD & Chrissi 🌟
Die beiden sind auf der ganzen Welt unterwegs, um auf Festivals zu unterrichten. Am 18. November kommen sie ins kleine Horb.
In zwei Workshops (Intermediate & Advanced) bringen Sie uns schöne Figuren aus Urban Kizz nahe.
Unsere einmalige Location 🏤 sorgt dabei für ein unvergleichliches Ambiente und für Wohlfühlatmosphäre. Wann hat man schon mal Gelegenheit innerhalb alter Klostermauern Kizomba zu tanzen?💃💃💃 Und das mit zwei internationalen Kizomba-Stars! 🌟
DJ Harryz 🎧 aus Stuttgart mischt uns das Beste aus der Kizombawelt – keiner wird bei diesem Mix still stehen können.
Programm am 18. November 2017:
19:30 Uhr: Einlass und Registrierung
20:00 – 22:00 Uhr: Urban Kizz Workshops mit JD & Chrissi ❗❗❗WICHTIG❗❗❗ nur jeweils 30 Plätze. VORANMELDUNG notwendig!
20:00 – 21:00 Uhr: Workshop 1: Urban Kizz Intermediate
21:00 – 22:00 Uhr: Workshop 2: Urban Kizz Advanced
22:00 – 22:30 Uhr: Social Dancing (auch für Partygäste zugänglich)
22:30 – 03:00 Uhr: Kizomba Party mit DJ Harryz (Stuttgart)
💲 Preise:
1 Workshop: 15 € (Saltango Mitglieder: 10 €)
2 Workshops: 20 € (Saltango Mitglieder: 15 €) ***Top-Angebot***
Partyeintritt für Workshopteilnehmer inklusive!
Eintritt nur Party + Social: 5 €
Nach dem tollen Erfolg der Kloster-Kizz Edition im Mai, freuen wir uns riesig auf dieses Event und können es kaum erwarten.
Feedback unserer bisherigen Gäste
Location:
"Schöner als jede andere in Stuttgart"
"Unschlagbar"
" Eine super Location ! Nicht zu groß .genau richtig !"
Organisation:
"Sehr vorbildlich, hat alles super geklappt."
"Sehr gut"
"Hervorragend"
Frage: Würdest du weitere Partys bei uns besuchen?
100 % haben mit JA gestimmt.
Was wir für euch ändern:
– kurzer Trainingsblock (30 Minuten Social Dancing) zum Trainieren der Workshop-Inhalte (auch für die Partygäste zugänglich und im Eintrittspreis enthalten)
– Workshops beginnen eine halbe Stunde früher – für mehr Tanzzeit im Anschluss
Ausserdem versuchen wir wieder ein ausgeglichenes Verhältnis zwischen Tänzer und Tänzerinnen zu erreichen und laden tolle Taxitänzer für Euch ein.
Sichert euch also bald euren Workshopplatz, denn auch dieses Mal sind sie limitiert auf 30 Plätze.
!!! Anmeldung !!! über "Nachrichten senden" mit Angabe des vollständigen Namens.
Wir weisen darauf hin, dass auf dieser Veranstaltung Fotos und Videos gemacht und für Werbezwecke für unseren Verein genutzt und veröffentlicht werden. Mit der Teilnahme an der Veranstaltung gebt ihr hierzu eure Zustimmung.
Wir freuen uns auf Euch
Saltango – Tango Argentino u. Salsa Nagold e.V.
in Kooperation mit
Projekt Zukunft – Kultur im Kloster e.V.
—– ENGLISH VERSION —–
🌟🌟🌟 Cloister-Kizz 🌟🌟🌟
Cloister-Kizz goes into the next round. Our cloister will open its doors for Kizomberos and Kizomberas from "Swabian" and people from outside.
Our artists for this great event: 🌟JD & Chrissi🌟 They are teaching all over the world and on 18th November they will come to our small town Horb am Neckar.
During two Workshops (intermediate & advanced) they will show nice figures of Urban Kizz.
Our unique location 🏤 will bring an unforgettable ambience and feel-good atmosphere. When do you have the change to dance 💃💃💃 inside a cloister?
DJ Harryz 🎧 from Stuttgart will bring the best of the Kizomba music world – no one will stand still by his mix.
Program 18th November 2017
19:30: entrée and registration
20:00 – 22:00 Urban Kizz Workshops with JD&Chrissi
20:00 – 21:00: workshop 1: Urban Kizz intermediate
21:00 – 22:00: workshop 2: Urban Kizz advanced
22:00 – 22:30: social dance (also for party guests)
22:30 – 03:00: Kizomba party with DJ Harryz (Stuttgart)
💲 Prices:
1 workshop: 15 € (Saltango members: 10 €)
2 workshops: 20 € (Saltango members: 15 €) ***top offer***
Party entrée included in workshop fee.
Only party + social: 5 €
After the great success of our last event in May, we are looking forward to this event and can't wait for November.
Feedback of previous guests:
"More beautiful than any other in Stuttgart"
"Unbeatable"
"A super location. Not too big, perfect!"
Organization:
"very exemplary, all had worked fine"
"really good"
"excellent"
Question: Would you visit further partys?
100% vote for "YES"
What we will change for you:
– Short training sequence (30 minutes social dance) to train workshop contents (also available for party guests – included in entrée fee)
– Workshops will begin 30 minutes earlier for more dancing time
Then we will have an eye on a good balance between male and female dancer and invite great taxi dancers for you.
Book your workshop place soon, because the places are limited again (30 places). Application via "message" with your full name.
Your Saltango Nagold club