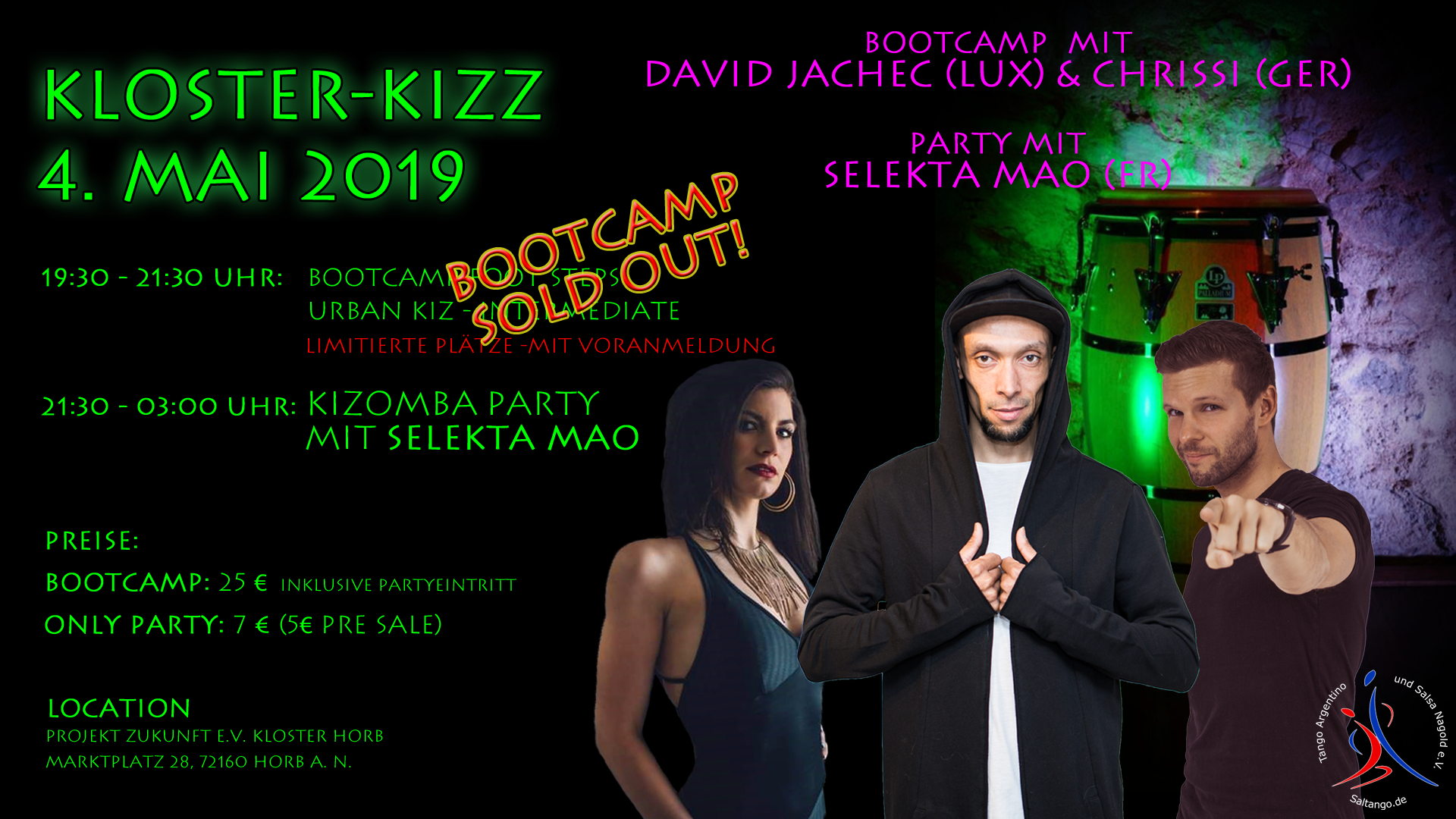 *** Kloster-Kizz *** English version below
Kizomba hinter alten Klostermauern…
…wir bieten euch ein 2-Stunden Bootcamp mit Top Teacher "David Jachec" aus Luxemburg & Chrissi (Karlsruhe) und anschließender Party mit Selekta Mao aus Frankreich
Wie immer ist unsere Kloster-Kizz Party streng limitiert, das Kloster bietet Platz für ca. 80 Personen. Also sichert zeitnah euer Ticket für dieses exklusive Event. Drei Nationalitäten runden unser Programm dieses Mal ab, David aus Luxemburg, Chrissi aus Deutschland und Selekta Mao aus Frankreich. Das kann nur gut werden. Es gibt nur zwei Kloster-Kizz Partys dieses Jahr und wir legen daher besonders viel Wert auf gute Stimmung und wie immer auf eine gute Balance.
Programm:
19:30 – 21:30 Uhr: Intensiv-Bootcamp – Urban Kiz Fußtechnik – Intermediate
Unterrichtssprache: Deutsch
21:30 – 03:00 Uhr: Kizomba Party mit Selekta Mao (Frankreich)
Preise:
2h Bootcamp: 25 € inklusive Partyeintritt – AUSVERKAUFT
Only Party: 7 € (5 € im Vorverkauf)
Wie immer gibt es limitierte Workshopplätze. (26 Personen können am Workshop teilnehmen) und limitierte Partytickets. Anmeldung nur durch Ticketkauf (Ticketlink)
Wir versuchen wieder bestmöglichst auf die Balance zu achten, sowohl für das Bootcamp als auch auf der Party.
Wir freuen uns auf die erste Kloster-Kizz Party im Jahr 2019.
Saltango – Tango Argentino & Salsa Nagold e.V. in Kooperation mit Projekt Zukunft e.V. Kloster Horb
— English version —
Kizomba behind old monestary walls…
…we offer a 2 hours bootcamp with top teacher "David Jachec" from Luxemburg & Chrissi (Karlsruhe) followed by a exclusive Kizomba party with Selekta Mao from France.
As always – our event is strong limited because our unique location has only space for 80 people. Save your tickets soon – also party tickets to be part of this exclusive event. There will be only two Kloster-Kizz partys this year and we will take care for good vibes and have a look to a good balance.
program:
19:30 – 21:30 Uhr: intensive-bootcamp – Urban Kiz foot technics – intermediate
teaching language: German (additional English if necessary)
21:30 – 03:00 Uhr: Kizomba party with Selekta Mao (France)
prices:
2h bootcamp: 25 € incl. party entry
only party: 7 € (5 € pre sale)
Limited places!!! Please buy your ticket via ticketlink.. (26 people can join the bootcamp) Also limited party tickets.
We will have a look to the balance and we will do our best to offer a really nice and familiar event, as usual.
Saltango – Tango Argentino & Salsa Nagold e.V. in Kooperation mit Projekt Zukunft e.V. Kloster Horb